As an Indian who grew up in a simple Middle Class family, Air Conditioning was a luxury that no one that I knew could afford. Even if someone had an AC installed, they would barely run it once a year because of the high electricity costs associated with it.
We all survived with
Ceiling Fans
to keep us cool. Some lucky classmates had Tablefans
on their study tables to keep them cool during the sweltering heat. This too was a luxury in the hot and humid South.
In the dry heat of the North of India, an Air Cooler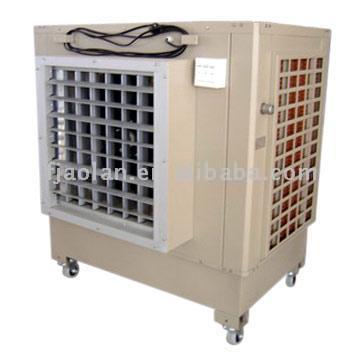 was de rigueur. Unless movable, it would be installed in the central hall, so everyone could sleep in the same room and save on electricity bills (completely different concept from saving electricity) It operated on the concept of a huge fan blowing fine mists of water over the humans crowding around it. Sometimes the wtaer added to the cooler, was given a touch of fragrance like Khus or Rose with a little essence added to the water. But this was an indulgence reserved for occasions when there were "guests" visiting and the like.
Having grown up with these fans, they have become a necessity in our lives. I have friends who have moved to the US (pioneer in central heating/cooling systems) at least a decade ago and they have bought mini portable fans to lull themselves to sleep. It is something to do with the motion of the breeze or the hum of the fan, that helps us sleep more peacefully. Familiar sounds and sensations from childhood perhaps.
Personally, while we were in
Egypt
, we used a tall floor fan in front of the Air conditioning during summer, to disperse the cool air further and during winter to disperse the hot air around the room and provide some air circulation in an otherwise still room.
In
Dubai
, even with the central airconditioning, fans were among the first of our electronic purchases and I use them more regularly and constantly, than the airconditioners even in the peak of Summer right now.
A common complaint about fans is that they do not fit or match or belnd into the decor. But with the modern ranges and designs available, this is no longer a valid complaint.
Consider,
craftmade ceiling fans
like
or
You can even go Futuristic with brands like
Fanimation
, which produce such gems as:
,
and
.
If you are looking for exclusivity, then brands like
Hunter Fans
produce Limited editions like the
1886 Series Limited Edition Model 18865 Ceiling Fan
Fans are a sensible choice. They can be decorative and add so much more character to your room, than just a drab white airconditioning unit or concealed central airconditioning. Its low electricity usage is good for both your wallet and the environment. So do give the fan a chance.